Mr Jimmy D. Mugerwa, Independent Non-Executive Director
BOARD MEMBER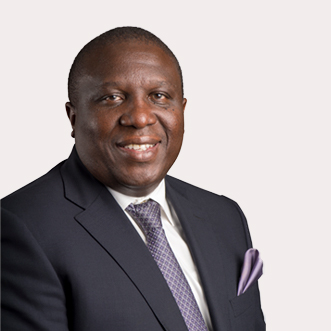 Mr. Jimmy D. Mugerwa is the founder & CEO of Zoramu Consulting Group Limited, a private oil and gas Business Advisory firm. He has a distinguished career of over three decades, as a business executive  leader with the oil and gas industry, both upstream and downstream, working across Africa and Europe. Most prominently, as the Managing Director for Tullow Oil in Uganda, he led the team in the exploration and development of the Lake Albert basin oil fields, along with the East African Crude Oil  Pipeline (EACOP). Prior to this, he spent 19 years at Royal Dutch Shell, serving in several executive positions including  being the Kenya Shell Country Chair/General Manager, Shell East Africa operations, Africa Retail Marketing & Strategy Manager for Shell and was also Senior Regional Advisor for sub-Saharan Africa at the corporate head office in the Netherlands. He currently serves on the Advisory board of Veracity Worldwide.
Mr. Mugerwa holds a B.Sc. (Agric) from Makerere University and an M.Sc. degree from the University of Wales. He also holds the Financial Times Non-Executive Director Post-Graduate Diploma, holds several certificates in Oil and Gas and is an alumni of the Executive Business Leadership Programme at IMD in Lausanne, Switzerland.
Board Experience:
• Mr. Mugerwa is a non-executive director in the Board of Uganda Breweries Limited.
• He currently serves as the Chairman of the DFCU Holding Group.
• He is an independent non-executive director at Jubilee Allianz Insurance in Uganda.
• He has held directorship roles in several boards for the Shell and Tullow companies across East Africa.
• Until December 2019, Mr. Mugerwa chaired the Presidential Investor round table for Oil and Gas for four years.
• He was a co-founder chair, together with the late Professor Wangari Maathai, of the Karura Forest Environmental Education Trust.
• He was the Chairman of the Managing Committee of Starehe Boys Centre for 8 years.